Introduction to Florida Traffic School
What is Florida Traffic School?
Florida Traffic School is a course that teaches you the necessities of road-traffic safety, safe driving tactics, and broadens your knowledge of defensive driving as a whole.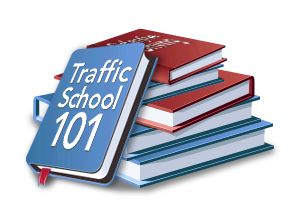 Generally, people take a driver safety course in Florida when they receive a moving traffic violation. By doing so, you will keep negative points off your driving record.
Drivers also take a traffic school course in order to gain knowledge of becoming a better and safer driver. Because traffic school Florida programs provide ample amounts of information regarding safety, traffic awareness, defensive driving techniques, and more, many are more confident in their driving skills once the course is completed.
Traffic school in Florida is available either online, like our program, or in a classroom setting. When needing or wanting to attend traffic school, you can choose which way you prefer to take the program.
What are the Benefits of Florida Traffic School?
By taking traffic school, Florida is more likely to reduce the severity of your citation, or dismiss it entirely. You must make sure you are eligible to attend a driver safety program in order to dismiss your citation through the court first. It is at the court's discretion to not accept your completion certificate if you did not elect to take traffic school with them.
When you take traffic school in Florida, you will also stop any negative points from reaching your driver's license. Because you are unable to remove points once they are accessed to your driver's license, taking a Florida driver safety course is vital. Traffic school will also keep your insurance premiums from skyrocketing. If you choose to not take a driver safety course, the points will go on your license and your insurance company can, and most likely will, raise your insurance payments.
Additionally, by taking a traffic school Florida program, you should have more confidence in your driving abilities and your defensive driving knowledge. This will help keep you and others safer on the roadways.
What are the Topics Covered in this Course?
Florida Fun Traffic School complies with the Florida state requirements and goes over the most important factors of defensive driving. Our Florida traffic school program covers topics you may not know, such as what exactly causes a traffic collision, and also contains information regarding some of the basics, such as safe passing techniques.
Each section of our online driver safety course has been specifically created to appease the State of Florida while still making it entertaining for you. Our online course provides detailed information in each section. The topics that will be covered are as follows: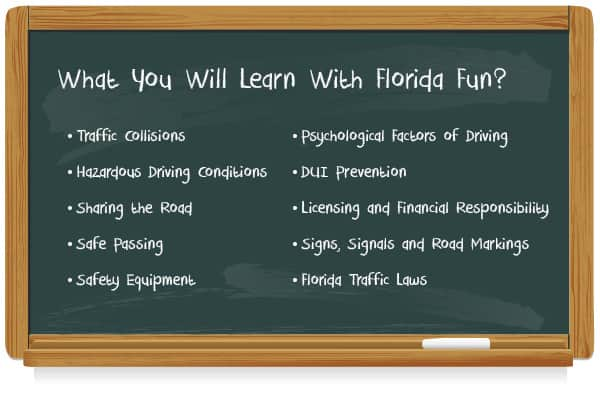 As you can tell, our traffic school Florida course is equipped with all the necessary tools and information that you need to become the best defensive driver you can. Our course will provide you with the confidence you need in order to keep the roads safe.